Saturday night served up one of the most anticipated games of the season but it was almost derailed by a messy incident involving Roy O'Donovan and Jordy Buijs in the opening 15 minutes of the match. Who was really in the wrong though?
The blame really has to lie at the two men directly involved in the incident.
Sure, VAR took an age to give us a decision which resulted in a ridiculous six minutes of added time after the first 45, but fans are by now accustomed to this drawn out process and in the end it came to the right decision.
That's not to say that the incident is black and white given that the correct decision was made in the end because this one was all the colours of the rainbow.
The Jets striker clearly clenches his fist and swings towards the face of Buijs rather than a flailing arm merely coming into contact with the player like often happens in football.
O'Donovan seemingly reacted to Buijs who had intentionally run across the Irishman to cut him off and probably would have been a foul against Sydney had there not been retaliation from the Jets man.
According to his coach Ernie Merrick however, that's not how the big number 9 believes the situation went down.
"Roy says he did not do anything deliberate," Merrick said.
"He may have struck the centre-back but it wasn't deliberate and he even apologised to him."
Even though the contact by O'Donovan looks cut and dry it's the response of Buijs being struck that was the real embarrassment of this whole incident and it does immeasurable damage to the image of the A-League by those who will see and mock it.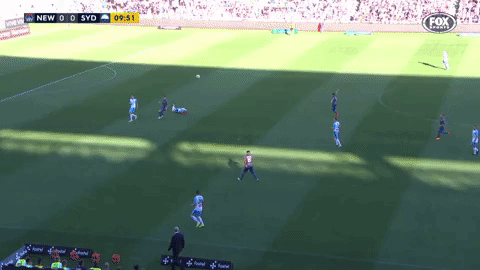 Merrick was eager to express his dismay at the incident and in particular the reaction from Buijs that could've cost his side vital points.
"It's quite a performance that the centre-back put on," he said.
"It seems to be the bigger performance, the more likely you are to get something out of it. Pretty disappointing actually."
Chris Beath's handling of the situation hardly covers him in much glory and he wouldn't have gained anymore fans after his later decision to award a soft penalty to the Jets after a push in the back of Nikolai Topor-Stanley from that man, Buijs.
Thankfully the early red card didn't ruin the spectacle as many initially feared and instead resulted in one of the most famous victories in Jets history which will undoubtedly give them huge confidence ahead of the finals.