The Western Sydney Wanderers are the new comers to the competition and will be hoping for a positive start to their A-League adventure.

Last Season
N/A
They'll win the league because…
…of their attacking play. The Wanderers have recruited the attacking likes of Labinot Haliti, Aaron Mooy, Youssouf Hersi and Mateo Poljak and if all these players hit a good vein of form then the Wanderers will be dangerous up front especially with the pace of Wanderers young gun Kwabena Appiah-Kubi and the now fit Tahj Minniecon.
Tony Popovic has also brought in experienced striker Dino Kresinger who will be leading the forward line and at the back the defensive pairing of newly crowned captain Michael Beauchamp and Nikolai Topor-Stanley. In good form these players could be the difference between title contenders and cellar dwellers..
They'll be Cellar Dwellers because…
…lack of time. The Wanderers may have recruited well but by the time the Wanderers got a coach most available players had already decided on moves to other A-League clubs. The Wanderers have done well in such a small A-League market but it may not be enough to lift them off the bottom of the table.
Popovic will have to rely on some players to step up with Mark Bridge and Tahj Minniecon both needing to impress after a couple of poor seasons.
History is also against them with Gold Coast United being the only expansion club to make the finals in their first season.
Talk around the Watercooler… Look smart around your colleagues with this valuable piece of information.
Wanderers recruit Mateo Poljak is a excellent amateur futsal player and has won many tournaments in his home land of Croatia.
The off-season brought…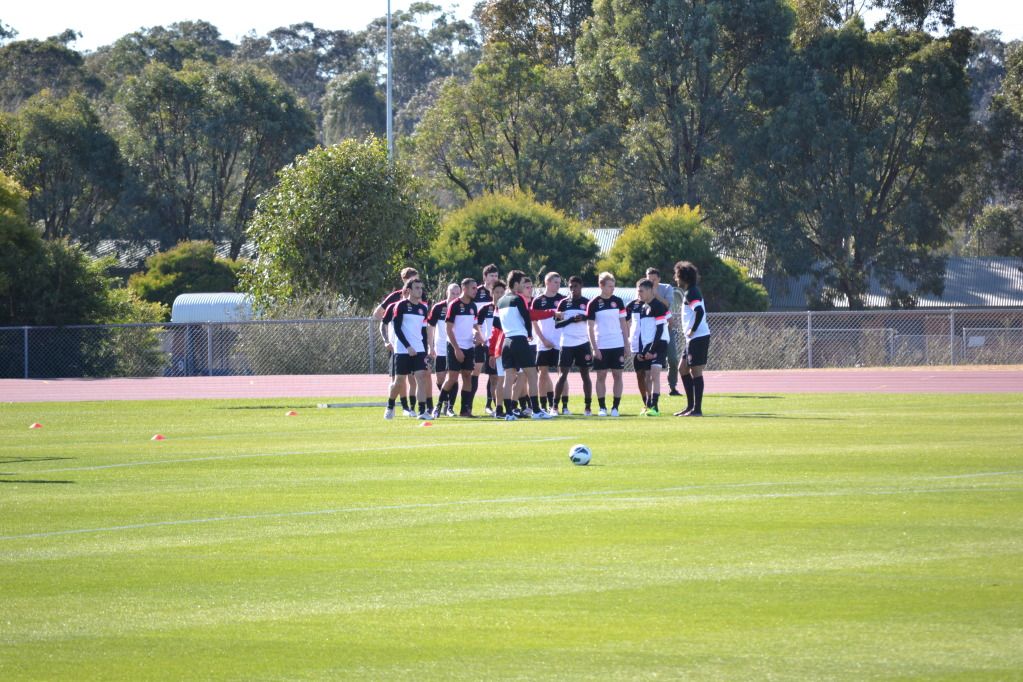 …a brand new club. The Wanderers were announced in April and branded in late June so it's been a very busy off-season and the FFA have done a fantastic job in the process. There were a couple of negative incidents but overall it's been smooth running. With already 2,000+ members, many community events, player appearances and some preseason friendlies the off-season has been nothing short of a success.
Key player…
Dino Kresinger – Kresinger has come from the Croatian top division and has been very impressive in preseason bagging a couple of goals in the process. He had offers from German second division clubs but decided to come downunder and is already showing his quality.
Kresinger is fast becoming one of the fan favourites and is a man that loves his fans no matter where he plays. If he continues his pre-season form into competitive matches then it could be the deciding factor in how the Wanderers will go this season.
One to watch…
Kwabena Appiah-Kubi – Appiah-Kubi is one of the fastest players in the league and with excellent dribbling skills and still only 19 years of age he could be the unexpected star of the Wanderers squad. Coming from the Mariners youth system which is well known for creating up and coming players he will be sure to feature for the Wanderers early on this season.
Full squad list
Ante COVIC, Jerrad TYSON, Michael BEAUCHAMP, Reece CAIRA, Shannon COLE, Adam D'APUZZO, Tarek ELRICH, Iacopo LA ROCCA, Nikolai TOPOR-STANLEY, Youssouf HERSI, Aaron MOOY, Mateo POLJAK, Jerome POLENZ, Jason TRIFIRO, Kwabena APPIAH-KUBI, Mark BRIDGE, Labinot HALITI, Dino KRESINGER, Tahj MINNICON
Enjoy this content? Support The Football Sack
Due in part to COVID and lack of current sponsorship we are at risk of not having the funds to continue running The Football Sack. If you enjoy our content and support our work in training talented young writers, please support us with a donation. If every reader contributed just $3, our funding would be covered for over ten years.