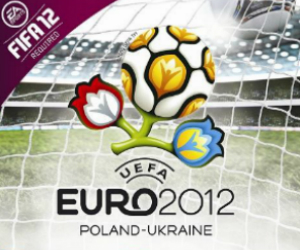 Last month EA Sports released their latest game in the FIFA series, Euro 2012 and for the first time in the FIFA series EA Sports decided to release the game on DLC and not a retail release meaning you will need the FIFA 12 game to download the Euro 2012 DLC.
This review was done on the PlayStation 3 console although the game is duplicate on Xbox 360 and Microsoft Windows.
General Gameplay
The general gameplay of Euro 2012 isn't much different to FIFA 12 as it uses the same engine and is basically a part of FIFA 12. One thing to note is that FIFA 12 won't get the updated international squads, new jerseys and new stadiums as Euro 2012 is seen as a completely different game.
When you boot up Euro 2012 from the FIFA 12 main menu it takes you through an Euro 2012 intro and once inside you are open to all European goodness. With the expansion pack you get updated kits for Euro 2012, the Euro 2012 official ball and also the final ball, the official Euro 2012 squads for the 16 teams and also the 8 stadiums that feature in Euro 2012 along with all the regular stadiums from FIFA 12. Euro 2012 commentary and authentic ad-boards and camera angles add to the realism of the Euro 2012 tournament.
There is however one large disappointment and that is almost half of the teams on Euro 2012 are unlicensed with fake kits and made up player names including Hyundai A-League players John Hutchinson as 'J. Prichardson' and Manny Muscat as 'E. Prescott.'
Euro 2012 Tournament mode


In the expansion pack you can play through the Euro 2012 tournament with realistic kick off times and squads although not to the delight of fans you can't do the full qualifying or Captain your country which has been very popular over the past few years. Entering the mode you have the choice of picking a team to take through the tournament and you can also replace a team with a non-qualifying team. It's very basic yet fun and challenging especially when you pick an under-dog like Poland or Ireland.
Overall I had a fantastic and challenging time playing through the Euro 2012 tournament, either battling to get out of the group stage with Ireland or cruising through to the final with Germany, all football fans will enjoy this mode.
Expedition Mode


EA Sports have introduced a new game mode called 'Expedition Mode' which is where you create a team name, colours, logo and kit and then pick a star player of your choice from one of the 53 teams on the game and then get randomly lower ranked played to fill up your team. You then start off versing lower ranked nations like Andorra and Macedonia and you have to play them to win a random player from their team, first win you get a reserve player, second win a substitute and so on.
You also get a mosaic piece to complete a one photo mosaic and also a road which is basically your tool to get to the bigger nations to get better players. If you lose games you lose a road. It's a really new and fun game mode which get's you wanting to play over and over again until you get that certain player and expand to other European nations. It's an interesting concept which I feel EA can expand on in the years to come and has the potential to be really fun and challenging. Fantastic concept.
Overall


EA have taken a risk and brought it out on DLC but I think they have done a pretty good job on a short time limit, It's well finished off with hardly any glitches or faults and the new stadiums, jerseys and updated squads make you feel you are really a part of the tournament.
Obviously there is a massive downside with the unlicensed teams and players but that doesn't stop it from being an entertaining game and hey, maybe Hutchinson and Muscat like there new names. Expedition and also the 'Coca-Cola Zero' daily challenges (Basically exactly the same as the EA Sports Football Club challenges) bring even more enjoyment and challenges which Euro 2012 presents.
I give Euro 2012 DLC a 3 Joey Bartons out of 5 (although let's hope there is only ever one Joey Barton).
Enjoy this content? Support The Football Sack
Due in part to COVID and lack of current sponsorship we are at risk of not having the funds to continue running The Football Sack. If you enjoy our content and support our work in training talented young writers, please support us with a donation. If every reader contributed just $3, our funding would be covered for over ten years.